The Basic Landscapes Story
Founded on the premise that homeowners needed an alternative to the standard 'mow and blow' landscape operations that are common in the industry, Ron Levinson, president of Basic Landscapes, inc and a 38 year veteran of the nursery and landscape industry, began offering landscape design and consulting services in 1999 in the near western suburbs of Chicago. With a passion for sound stewardship, a right plant/right place and function dictates form approach to design and the firm belief that proper care of a well designed space would result in a healthy, lush and beautiful landscape, our young company began to develop a loyal following.
With the urging of his wife Judy and the support of a growing list of clients, construction and maintenance services were added the following year.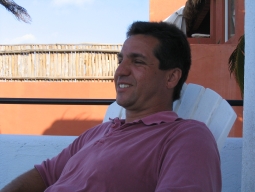 Now with more than 17 years serving DuPage County, we have a steadily growing base of valued clients largely as a result of your referrals and repeat business, for which we give our undying gratitude.
We seek out the finest materials and techniques available, invest the time and energy in our employees, most of whom have been with us since our humble beginnings, and in ourselves to develop the creativity and skills to deliver our products and services in a timely, caring and consistent manner.
We think our passion for nature and beauty shows in the projects captured throughout this website and we thank you for the opportunity to show you what we can do for your property.
---
Ron Levinson, principal of Basic Landscape lives in Lombard, Illinois along with his wife, Judy, their Cocker Spaniels, Retro and Deco and a pond full of koi and frogs. When he's not working on someone else's landscape, Ron works on his own garden, cooks, makes pottery and scuba dives in the Caribbean every chance he gets.
In 2008 Ron was honored to receive the title of Board Certified Master Arborist through the International Society of Arboriculture, a designation currently held by only 1% of the 40,000 certified arborists worldwide.
He continues to focus on landscape plant health in all of his endeavors by promoting sound design and proper planting and maintenance on all of the landscapes placed in his care, and is available for consultation on all matters landscape related.