Landscape Maintenance
Modern landscapes can be extremely complex.
Many of the same systems in your home are carried through to the outdoor environment.
On top of all manner of built elements, your plants need to survive weather extremes, co-exist with the built environment and with the right attention, thrive.
Let us free up your week end and take the worry out of caring for your beautiful outdoor spaces with the right services at the right time with: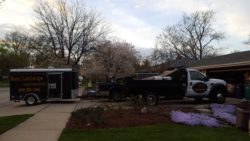 Lawn Services
Our team can give you the thick, lush turf you've always wanted with weekly mowing, properly timed fertilization, weed control, grub control, as well as core aeration and seed to combat soil compaction and normal wear and tear .
A healthy, well groomed lawn is the element that ties your landscape together, giving it that finishing touch.
Plant Bed Maintenance
Start the gardening season off right with a spring clean-up , cultivation, spade edging and fresh mulch.
Regularly scheduled visits for bed weed control, targeted pruning to enhance plant health and timely fall leaf clean-up will keep your landscape looking consistently good throughout the growing season.
Seasonal flower plantings for beds and containers are great for instant curb appeal and long lasting splashes of color.
Arbor Care
Trees are part of the DNA here at Basic Landscapes.
Our owner, Ron Levinson, is an International Society of Arboriculture Board Certified Master Arborist (IL-1729B). He'll ensure the best care and treatment for your landscape investment.
Root Flare Remediation
Volcano mulching, soil compaction from construction activities and foot traffic, deep planting, grade changes, poor water infiltration and low organic material content, in addition to alkaline soil Ph & nutrient deficiencies and heavy clay soil conditions are common problems on urban landscapes.
These problems put incredible stresses on landscape plants, leaving them prone to girdling roots and susceptible to insect and disease.
We are pleased to offer Air Spade Services to help minimize the impact of these issues.
Water Feature Maintenance
Our team offers pond management services for sparkling clear water in your fountains and water features and happy fish in your pond. Schedule a spring clean-out to start the season off right.
Call us at (630) 220-1344 for an evaluation of your landscape.